·
REDUCE SLIPPING & INJURIES
·
CONFIDENTLY WALK IN SNOW, ICE, WET GRASS AND MUD
The Magic Spiker is for everyone; from children to the elderly, from ramblers to construction workers, from skiers to council staff, with a pair of Magic Spikers you will walk with greater confidence.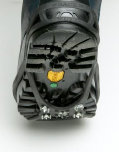 Magic Spikers come in 4 sizes. Price includes delivery
Keep your feet while others are slipping away! The Magic Spiker is a uniquely designed footwear
accessory that helps anyone walk with slip free confidence.
Ice, snow, mud, sand and wet grass
will stop being an unfriendly environment, giving you confidence to venture out in most weather
conditions.
Small Kids 11-1 Medium 2-4/5 Large 5-8/9, XL 9-13
Our family pack offer allows you to purchase any 4 pairs of Spikers for an amazing £49.99 including FREE delivery

*Sizes will vary slightly dependent on shoe style and manufacture